Google Analytics 4 is Google's new analytics system. For the very first time, Picfair Plus users will be able to gain further insights into who is visiting their Store.
If you're looking for a thorough breakdown of your Store visitors' behaviours, this will give you the opportunity to track:
How visitors arrive on your Store


How much time visitors spend on your Store



Which areas (including images or specific albums) viewers visit on your Store
To learn more about Google Analytics 4, click here.
Note: It's not compulsory to set this up for your Store, this is an optional feature.

How do I enable GA4 for my Store?
You'll need to have Picfair Plus enabled for you to access this feature. You can find out more about Picfair Plus here.
Step 1: Create a Google Analytics account & property
Follow the steps here to create a Google Analytics account and connect it to your Store.
Please ensure you select the 'web' data stream so you can successfully add your tracking ID successfully in Step 2.
Step 2: Connecting Google Analytics 4 to your Store
Once you're assigned your unique tracking ID, you'll need to input it within your Store Settings.
Your tracking ID will always be in the format of G-XXXXXXXXX
You can input your tracking ID here.
Once that has succeeded, you'll see it showing 'Connected' as below: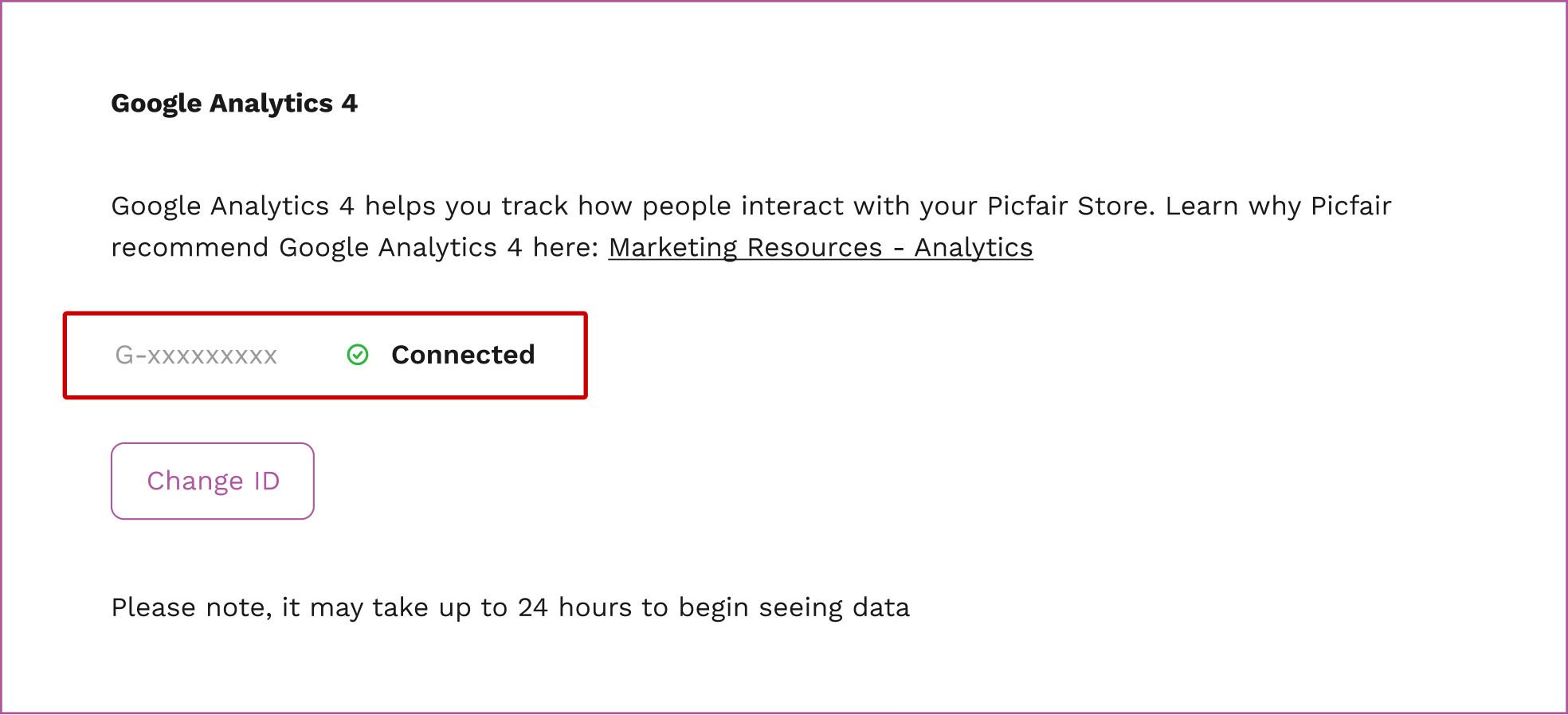 You can confirm data is being collected by following the instructions here.
TROUBLESHOOTING
If you're having trouble setting up your Google Analytics account or locating your tracking ID, Google has a troubleshooting guide for the most common issues here.
If you can't find an answer to your problem in the above guide, please check:
You are selecting the 'web' data steam when setting up


Whether you have successfully set up a Google Analytics account. You'll find instructions here on setting up


If you're still experiencing issues, we strongly recommend viewing the video below from Google that provides an excellent walkthrough of GA4 and showcases how to set it up correctly:


Assuming you've connected GA4 to your Store successfully, Google is best positioned to help you make the most of Analytics. To get the most out of this feature, head here.