If you enjoy using Lightroom, our upload plug-in is here to help manage your uploads. You can export and update your photos and albums directly from your desktop version of Lightroom Classic into Picfair!
Here's how the Picfair upload plug-in works:
1. Downloading your plug-in
First, download your plug-in here

We recommend saving the .lrplugin file to your desktop.
2. Connecting your plug-in
Within your Lightroom Classic desktop application, view the File menu and select Plug-In Manager: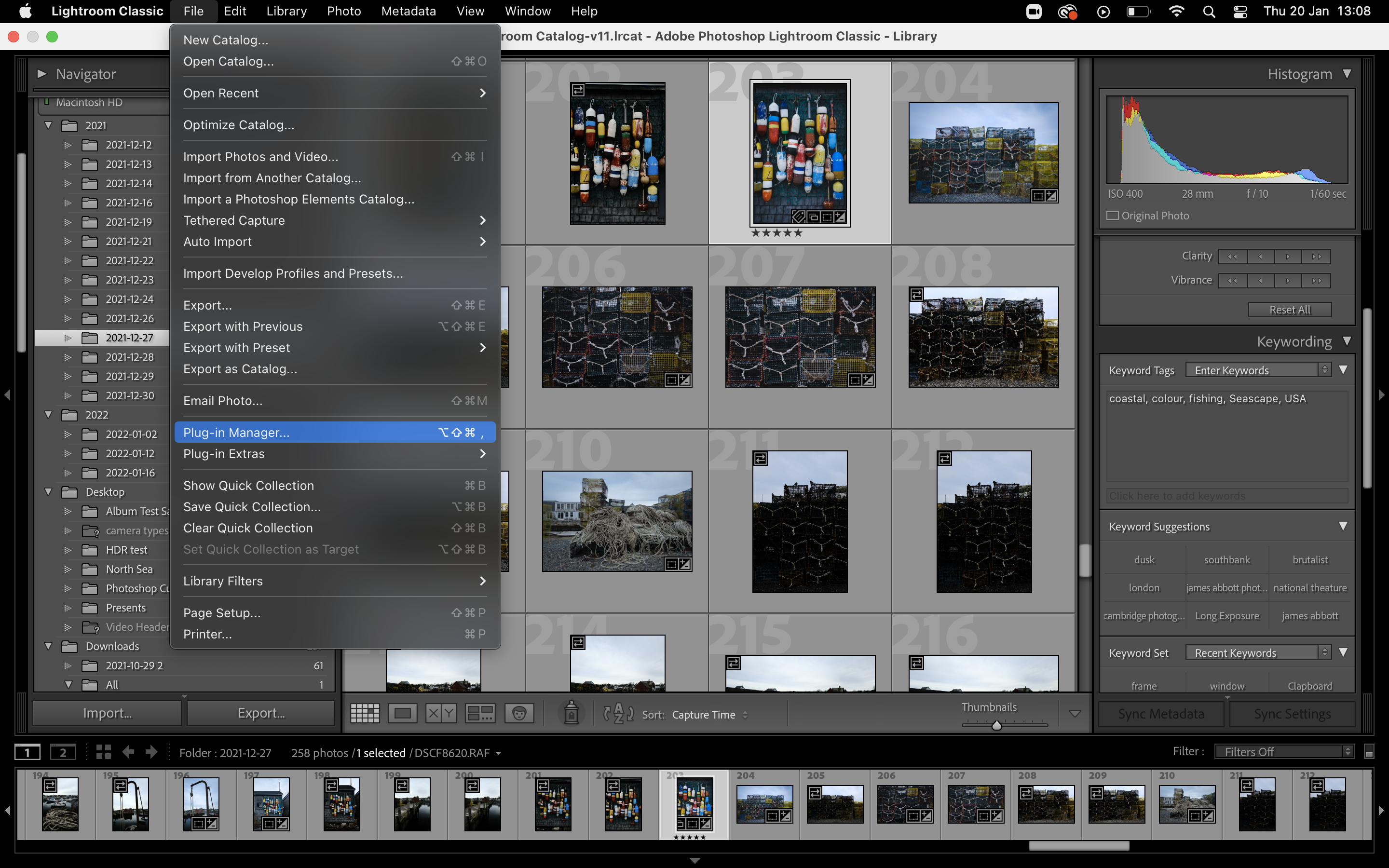 Click Add and select your Picfair .lrplugin file

You'll now see Picfair added to your list of Publish Services: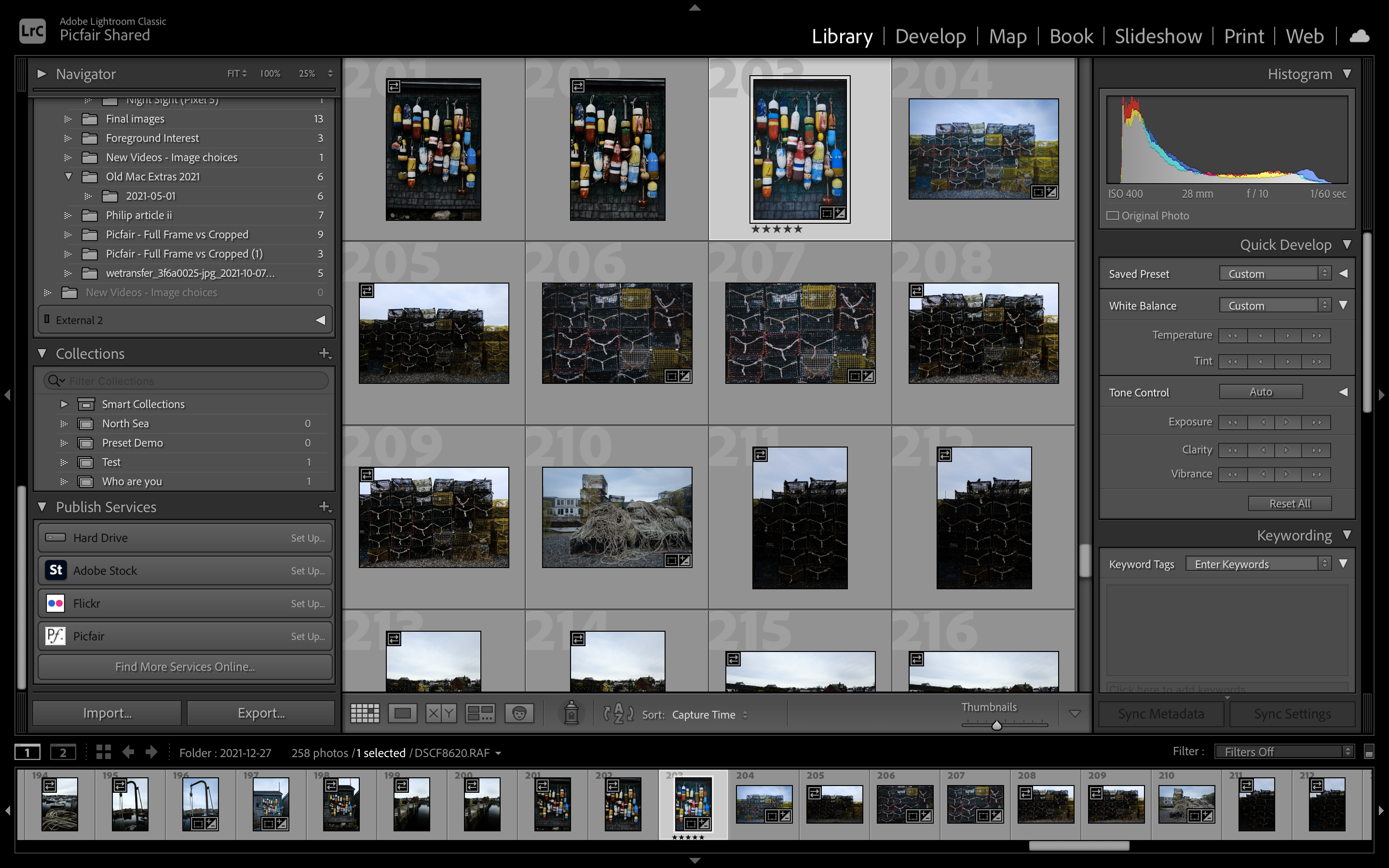 Click Set-Up to connect your Lightroom account with Picfair

As a Plus user, you'll be able to access this page to generate your unique token

Copy and paste this into the Plug-In Manager

Select Save in the Picfair Token section to authenticate your account

Finally, press Save at the bottom of the Publishing Manager window to save your settings for this plugin.
Your Lightroom account is now successfully connected to Picfair: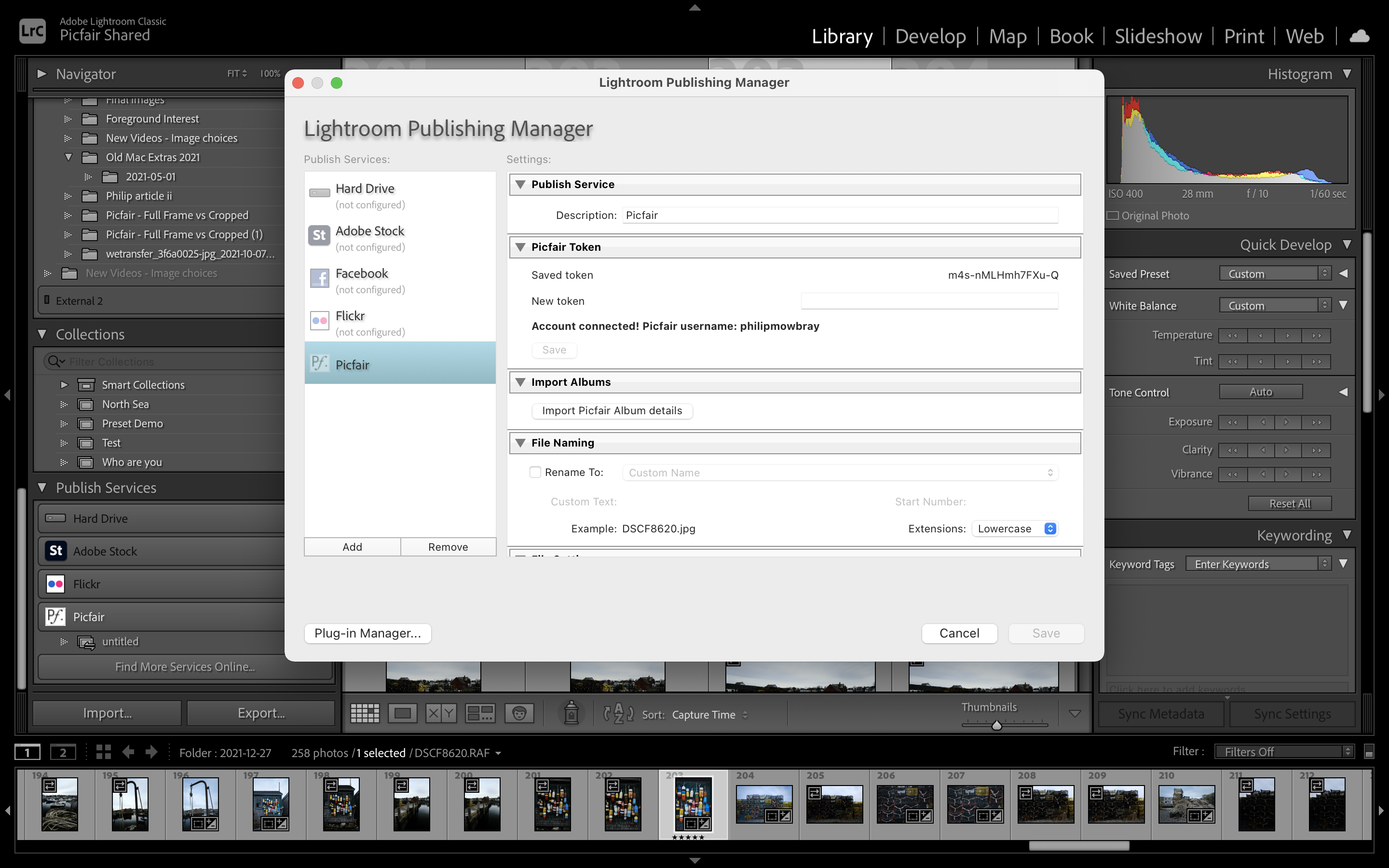 3. Uploading from your plug-in
Within the Publishing Manager, you may decide to Import your Picfair album details

This will mirror your existing Picfair album structure in Lightroom

Whilst album contents and duplicated albums will not be imported, you can upload additional photos into these existing albums

You can create new Picfair albums through the Publishing Manager by right-clicking Picfair under Publish Services and selecting Create Album: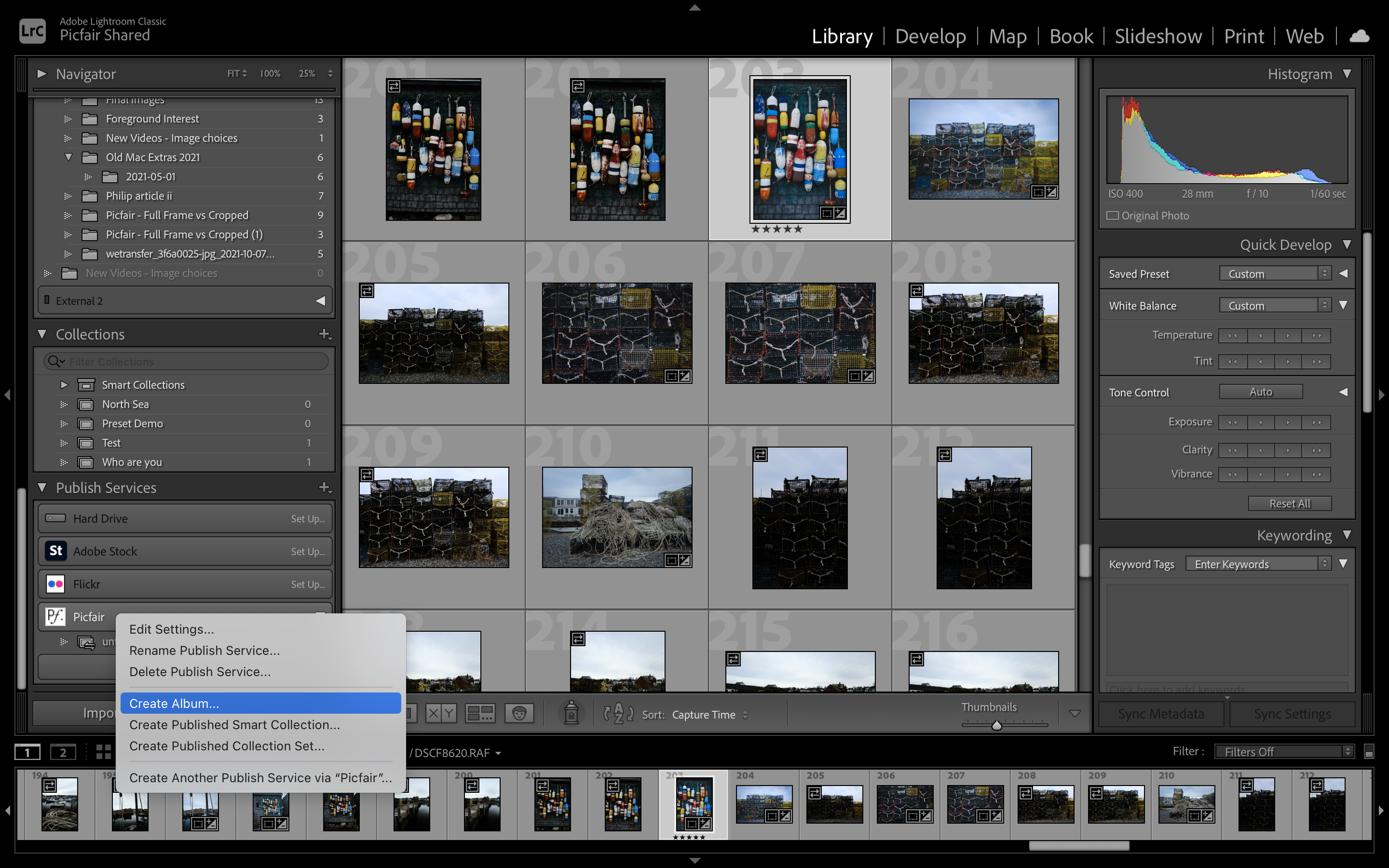 These albums can be renamed, deleted, and uploaded into at any time within Lightroom: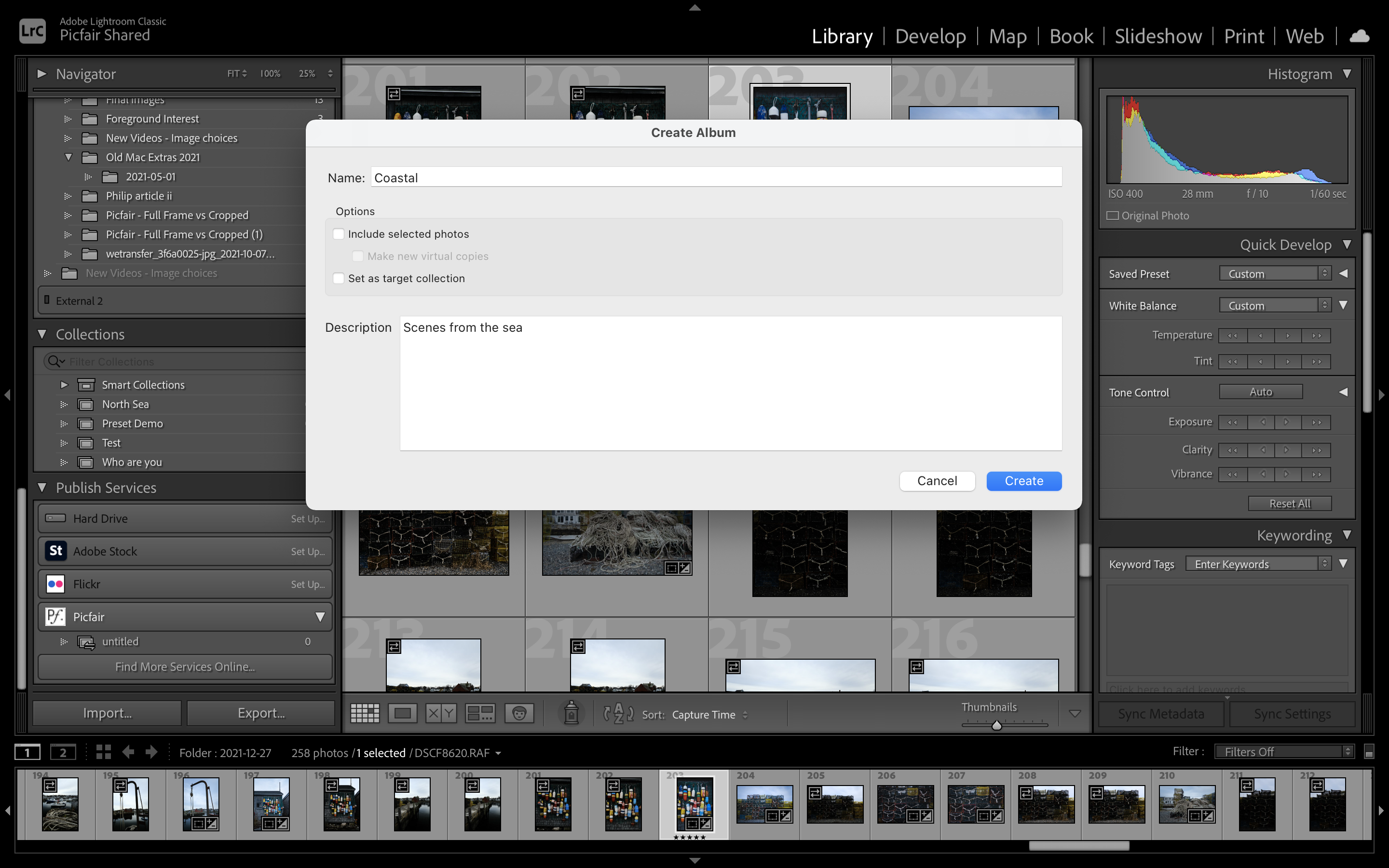 You can click-and-drag your Lightroom images directly into your albums within Publish Services to add them to the publish queue: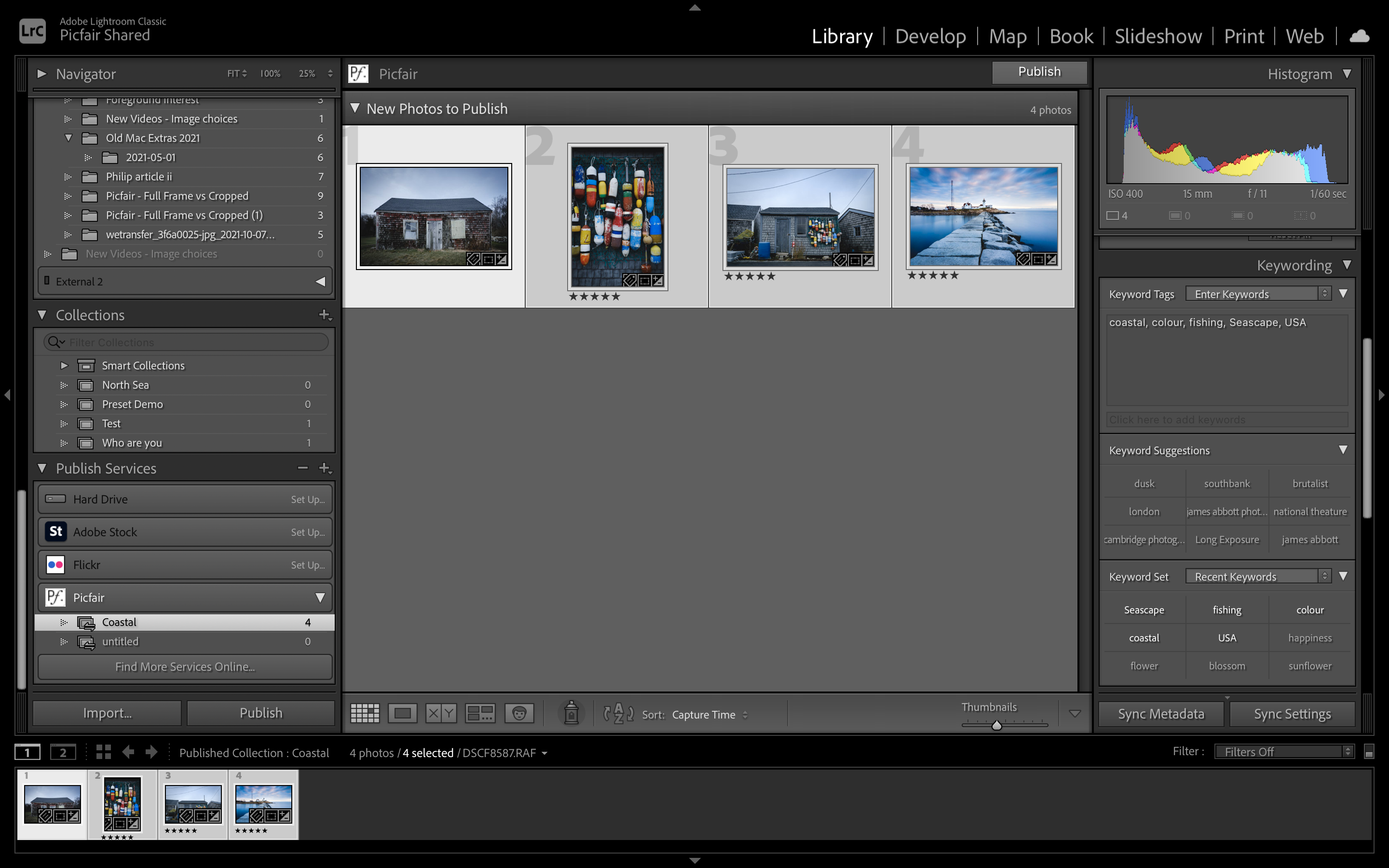 Lightroom title, caption, and keyword information will reflect through your Picfair image titles, captions and tags

Your default image price is automatically applied for all Lightroom uploads - you can update your default image price here

The Publishing Manager will trigger a re-publish option when you either:
i. Update image metadata in Lightroom
ii. Edit an image in Lightroom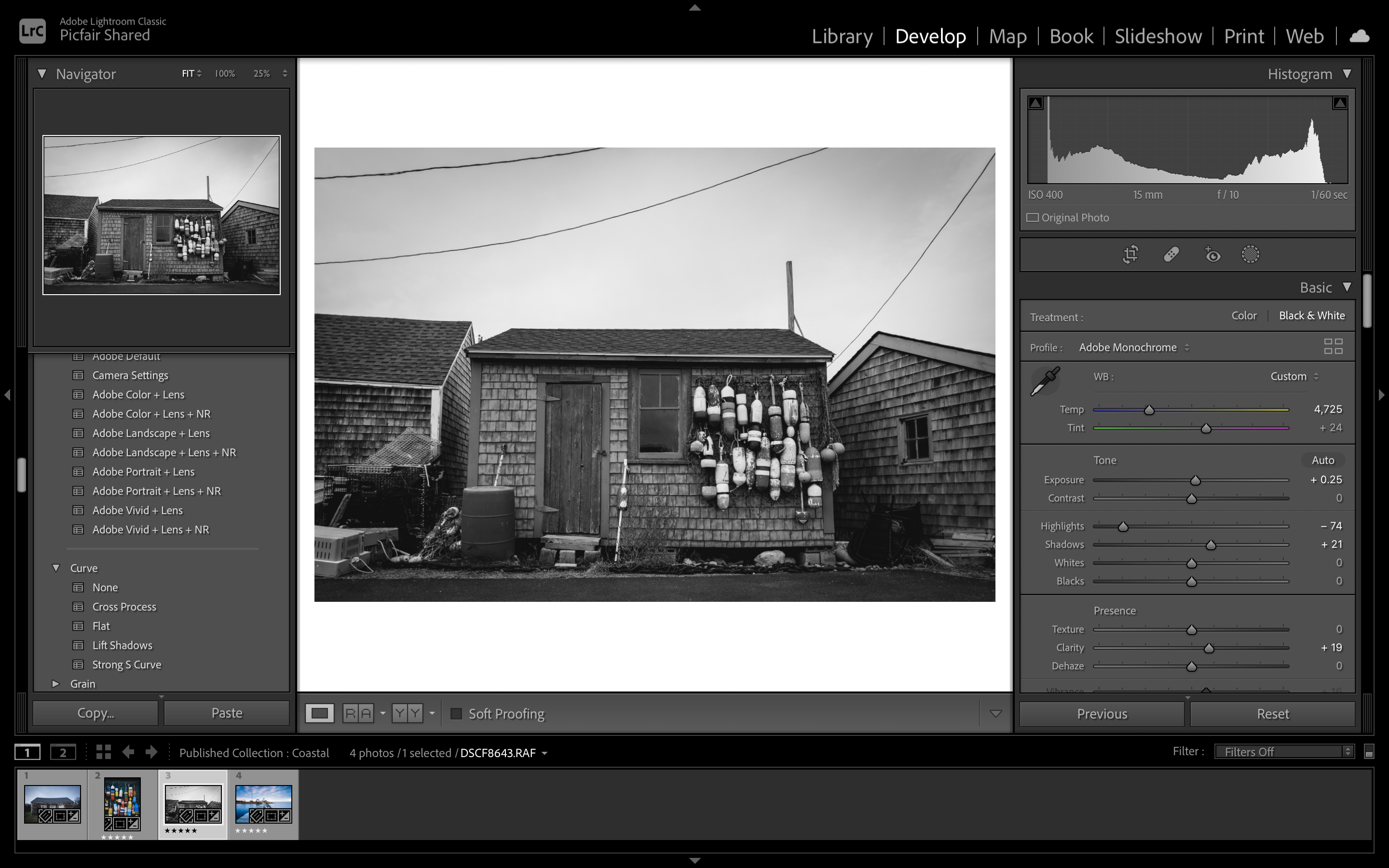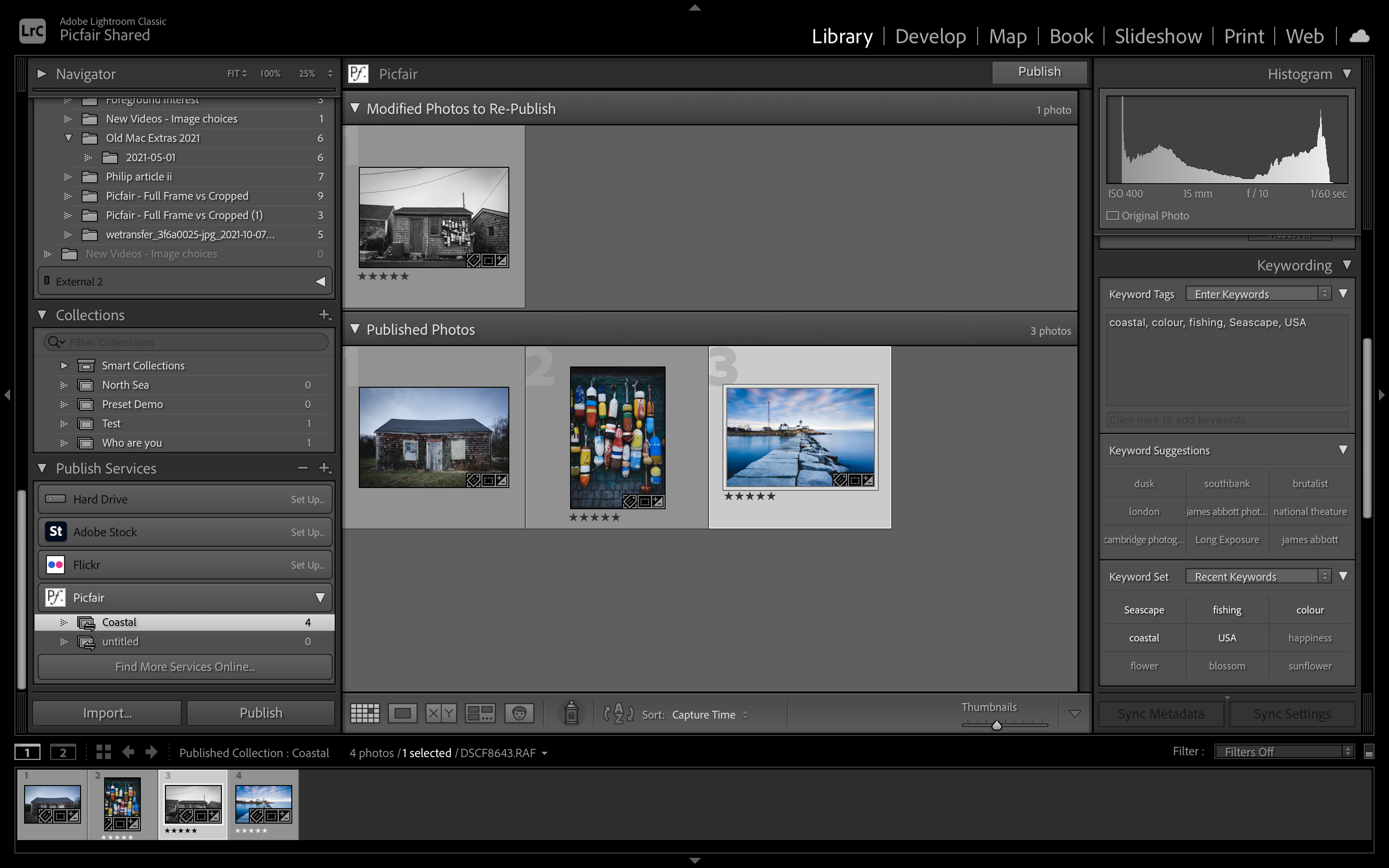 Images removed from synced Lightroom collections (albums) are deleted from Picfair albums should you re-publish

Album image counts cannot exceed 100

You also have the option to upload individual images using the single-export function. You cannot create albums through this route: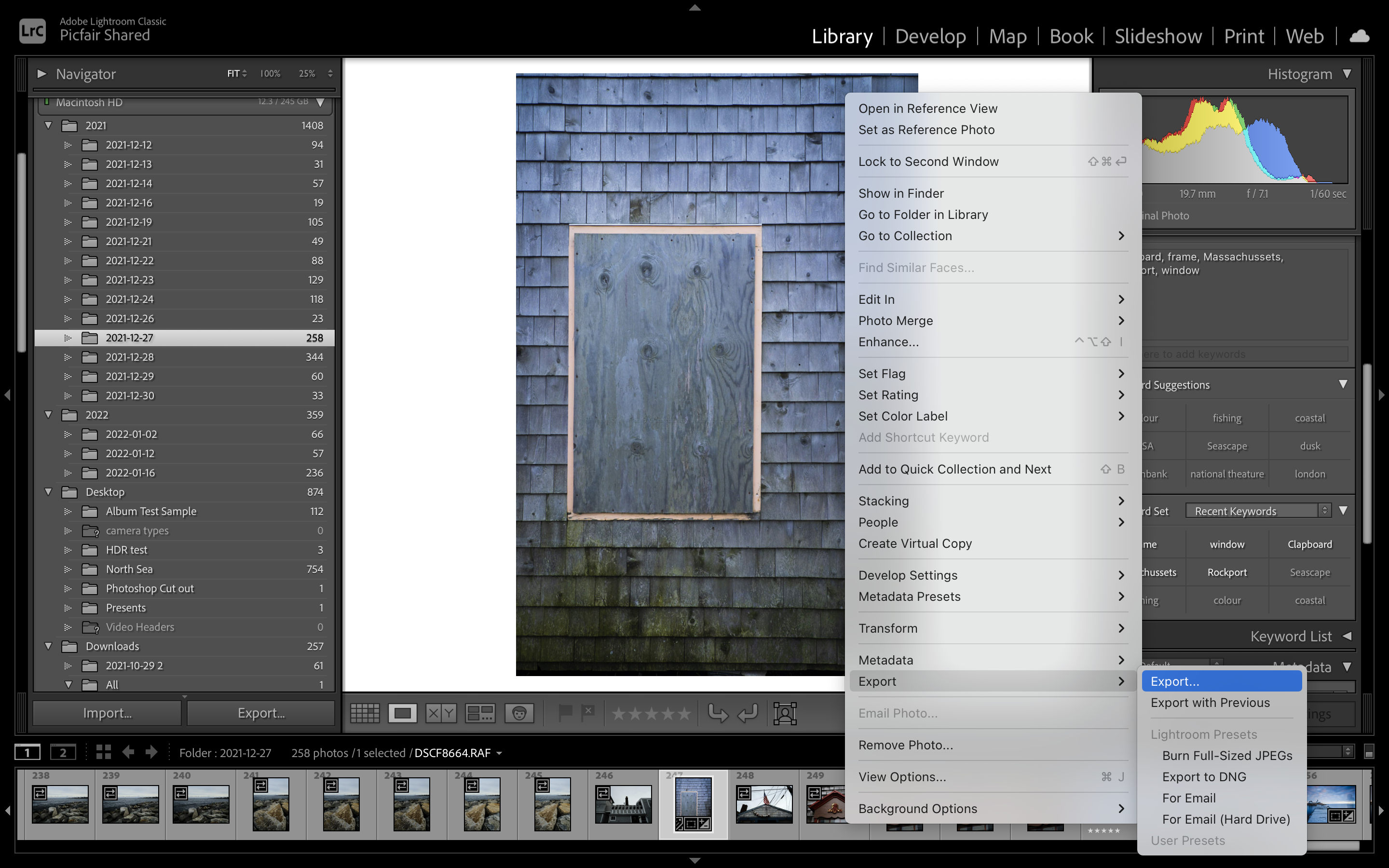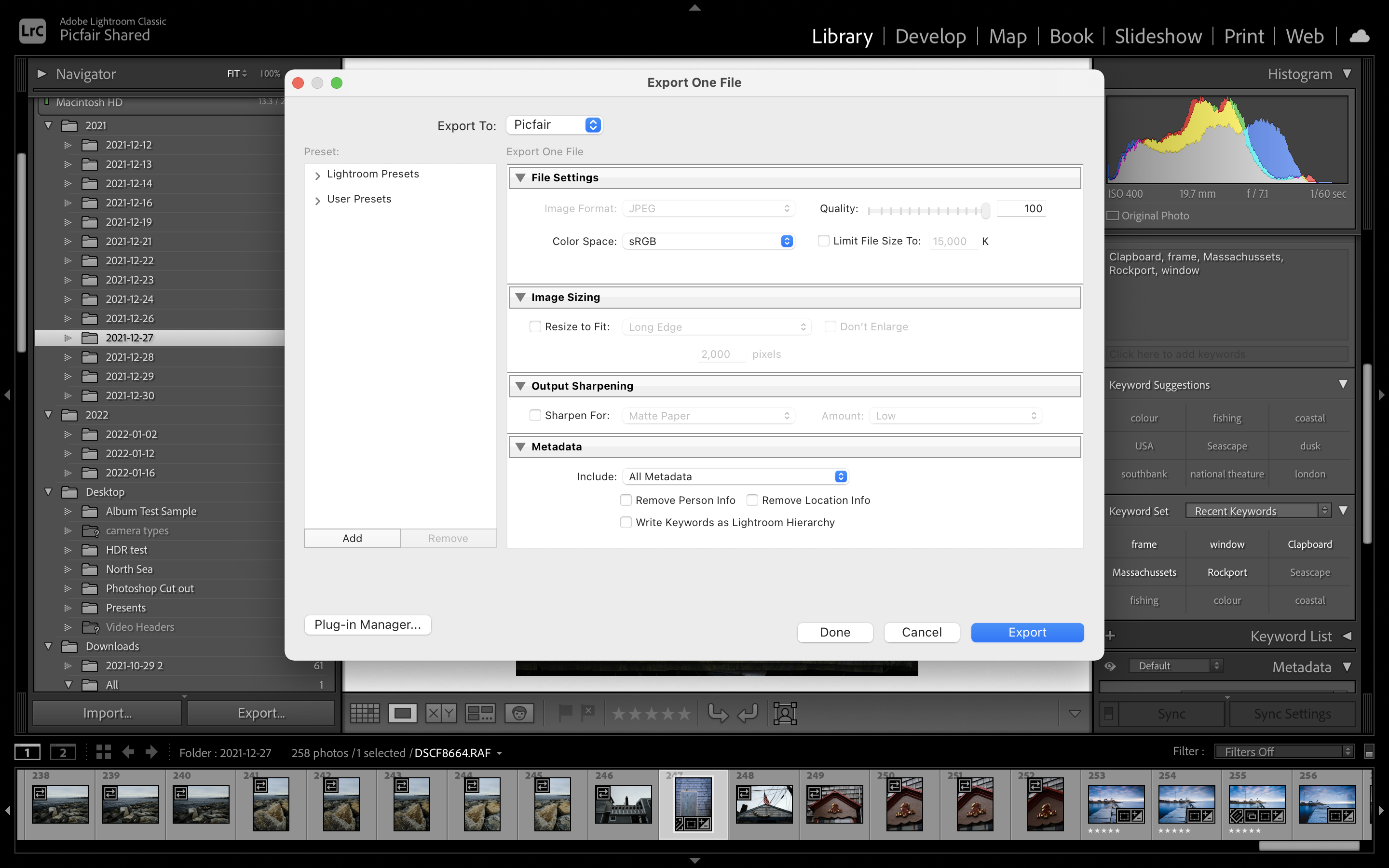 We will ensure our upload plug-in always works correctly on the latest Lightroom version. If you're experiencing bugs with our plug-in, please check that you've updated to the latest Lightroom software before contacting us.
If we alert you that an update of our plug-in is available, first delete your current plug-in file before downloading the new one. Doing so will reduce the chances of subsequent errors.
4. Image requirements
Picfair's image upload requirements remain the same when you're using our Lightroom upload plug-in:
Images must be a minimum of

800 px across

(there are no maximum pixel dimensions), and

under 30MB

in size
All images uploaded to Picfair must be

JPEGs (.jpg or .jpeg)

We can't accept images that are saved as other image types such as .tif or .png.
You will receive an error message in Lightroom if your images do not meet the above criteria: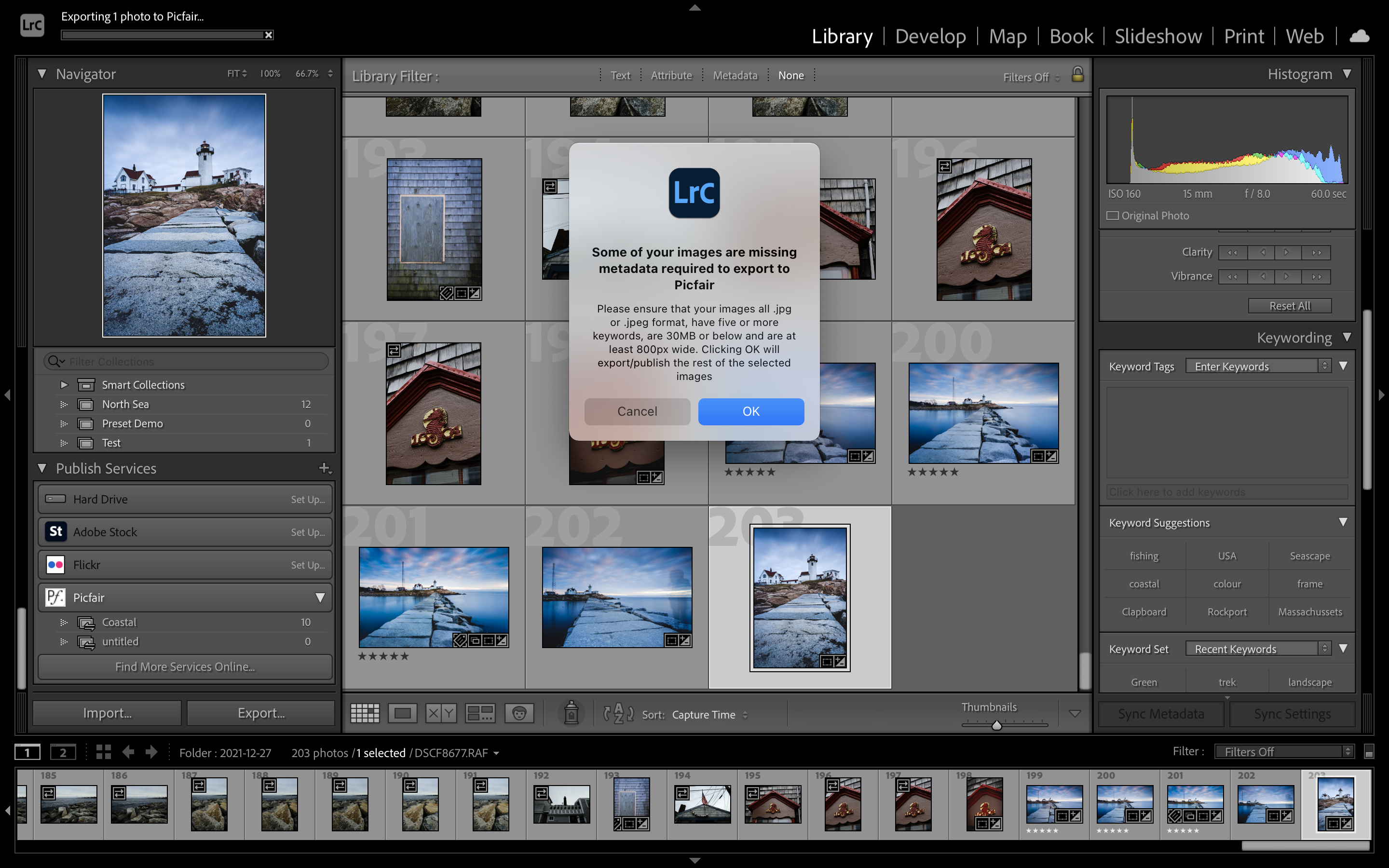 Additionally, images that feature watermarks, overlaid text, date/time stamps, emojis, or borders will not pass moderation.
For more detailed information on our image requirements, visit here.
5. Frequently Asked Questions
I'm unable to upgrade my Lightroom upload plug-in:
You'll be able to download the latest version of Picfair's Lightroom upload plug-in

here

when you're alerted to update your plug-in

To

ensure you have the most to date plug-in, you will first need to

delete the outdated picfair.lrplugin file that currently exists on your device
If you do not have the most to date pug-in, your picfair.lrplugin file will not be overwritten with the upgrade

In the instance that you're experiencing difficulties when installing a new plug-in, please first try refreshing your token

here.
Why should I use Lightroom Classic?
We recommend visiting Adobe's

Lightroom Classic User Guide

to learn how Lightroom Classic can help you organize, edit, preview, and share your photos.
Finally, if you're looking for inspiration, check out these 5 essential edits for every image in Lightroom:
We hope you enjoy using our Lightroom upload plug-in! If there's anything that hasn't been covered here, please don't hesitate to contact us.