Once you've uploaded your images, you're ready to start setting up your Store! This can all be done in simple steps from your Store Settings dashboard.
The screenshot below shows you where you can find Store Settings on the Picfair website:

Publishing and Unpublishing your Store
For photographers on our paid Plus plans, your Store will automatically be in 'Published' mode - this means your Store is live, and you can see this at the top of the 'Store Settings' page under the section 'Publish'.
If you've chosen to sign up on a free Lite plan, your Store will be in an 'Unpublished' state and can only be published if you choose to subscribe to Plus.

If you want to make changes to your Store or take your Store offline for any reason, you can choose to 'unpublish' your Store at any time by switching the toggle button back:

Here's where you can find your Store's URL, which is the web address that anyone can use to visit your Store:

This is unique to you, so you can share your unique URL with your network and spread the word! Your Store URL comprises your Picfair username, but your Store URL can be anything you want - you even have the option of linking your own custom domain
Overview of Store Settings
There are a number of areas that allow you to manage your Store's settings and customize your Plus features. These are also displayed on the left-hand column of the page under Store Settings, and you can go back to this page at any time by clicking 'Overview'.
Theme and Design

The theme is how your Store will look throughout and is designed to make your images stand out. Our latest Store feature, Custom Themes, gives you complete control of the background and font colours of your store. You can now choose any colour combination you want for your store background and fonts!
In this area, you can also select the layout. The layout is how your images will be displayed on your Store. You can also add a welcome splash page from this section.
Header and Navigation

Here, you can customize the look of the header section of your Store. This is the top section of your Store that displays your name and menu links that appear on each page of your Store. In this area, you can choose to add your own logo and bio and have the option of customizing the font size, type and colour There are an array of options to add an extra touch of personality to your store.
You can also include an in-Store search bar that will allow users to search your Store using tags, and from here you can also edit the links on the Store menu. For example, here you can add a link to your personal blog to appear on your Store menu.
Content and Organisation

This is where you can organize how the images you have uploaded to Picfair will appear on your Store. There are three different options you can select, and you can choose more than one.
Domain Settings

This is the section where you can link your own custom domain to your Store. A domain name is the address of your website and with Picfair Plus,you have the option to link a custom domain you have purchased to replace the standard 'username.picfair.com' domain.
A custom domain is ideal for marketing your Store and makes it easy for visitors to remember your unique URL.
Advanced Settings

This section is where you can find more advanced settings for your Store, including where you can add and edit your own watermark. You can also add alternative social media previews to your images here and set up Google Analytics for your Store.
Setting up your Store's Theme and Layout
If you publish your Store before configuring your Store's theme and layout, it will be automatically set to the light theme and your images will be automatically displayed in Rows. But you can always change this here.
We recommend you try out both the light theme and dark theme and all the different image layouts - to see what you prefer and what works best for your images. You can change the layout option at any time from this page.

Here's an example of a Picfair Store automatically set to light theme and images displayed in rows:
Choose between a light or dark theme and a custom theme alongside how you would like your images displayed on your Store: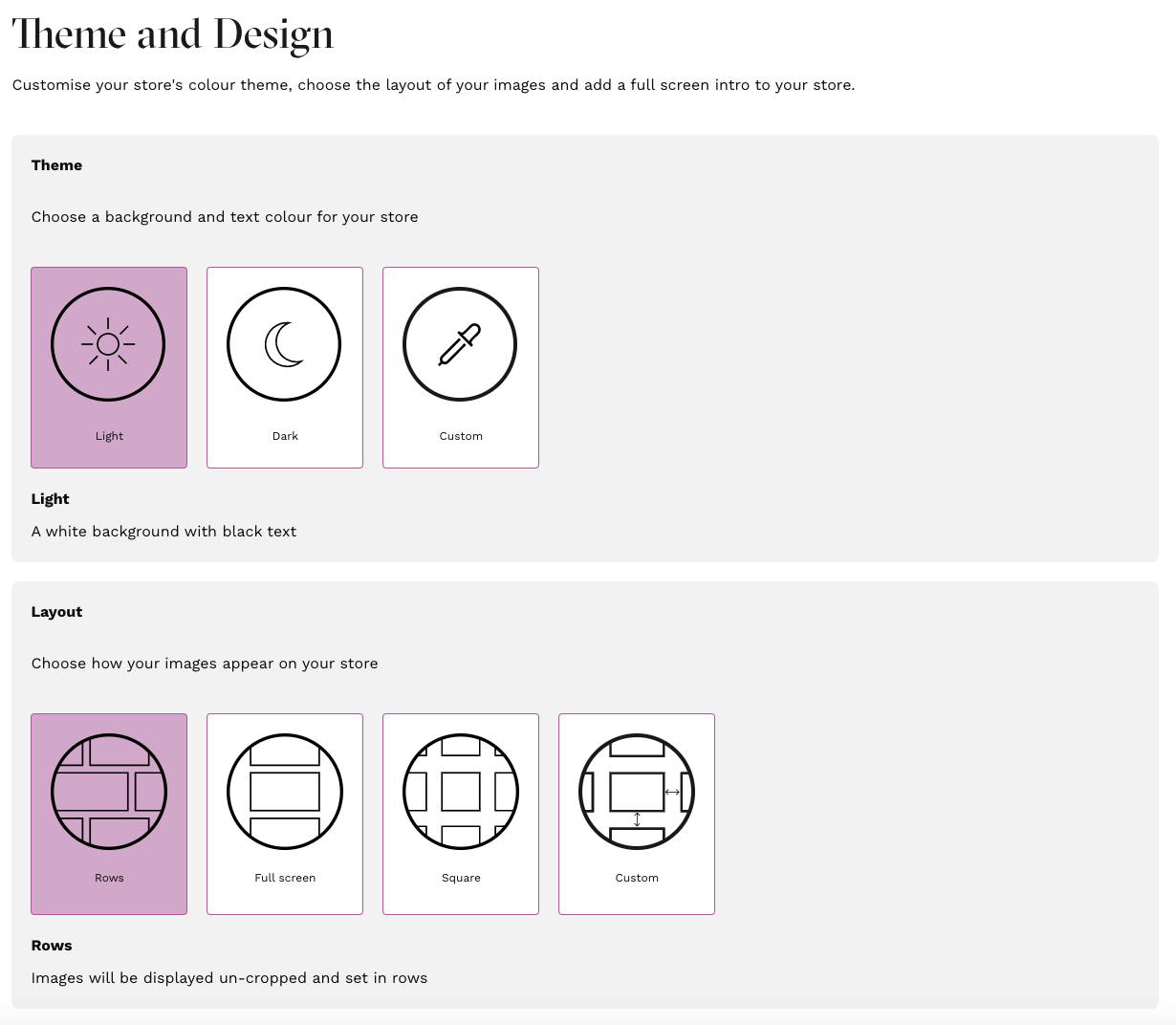 Choosing a square layout will display a cropped version of your images on your Store if they are originally in portrait or landscape format. All images can be viewed at full size by selecting the arrow icon in the bottom right-hand corner when hovering over each image.
Make sure you click Save Changes at the bottom of the page so all changes made will be on your Store. Next to Save Changes, you'll see a link to view your Store so you can quickly and easily see how everything looks when exploring different theme and layout combinations.

Organising your images
All of the images you have uploaded to Picfair will be displayed on your Store by default. To change this, and to further organize the images on your Store, go to the Content & Organization section of Store Settings
You will see a number of options that allow you to choose the organization of images on your Store, and the good news is, you can choose more than one option! The three display options are as follows:
All my images
Selecting this option means all the images you have uploaded to Picfair will be displayed on your Store. If you have this option selected, you can also choose to include the 'in-Store' search functionality, which will allow users to search through your collection of images using tags.
Albums

Here you can choose to display all the albums you have created on your Store. Note: if you wish to display an edited selection of images only with albums, this will turn off the in-Store search functionality.
Featured Album
Here you can set one of your albums to be a Featured Album, which will have its own dedicated link on your Store menu. This is ideal for displaying a curated selection of images on your Store homepage, so your images will appear exactly how you want them to look.

Underneath all display options, you can select Set as Homepage to showcase that particular display option on the homepage of your Store. When visitors click on your Store, they can see all of your images, a featured album or all albums.
Make sure you select Save Changes when you have finished. From here, you can also view your Store, so you can see the changes you have made:

Once you've chosen a theme, layout, and image display options, you're ready to go!
When looking at your live Store, at the top, you'll see your Store Header, which is the main point of navigation across your Store. This is where your name or logo and bio text appears, along with an in-store search bar (if selected) and links to the Store menu, social share links and shopping basket.
Here's an overview of a Picfair Plus Store:
Now you've got your Store set up, you're prepped for the exciting part - using your Plus features. Read more about customising your Plus features in this guide.