Your dashboard is the main navigation panel for all features and services on Picfair.
You can upload images, view your store, access our resource centre Focus and manage all your account settings and store features.
The left-hand panel has a menu where you can manage your Library, Store, Settings, Lightroom and Marketing Guides: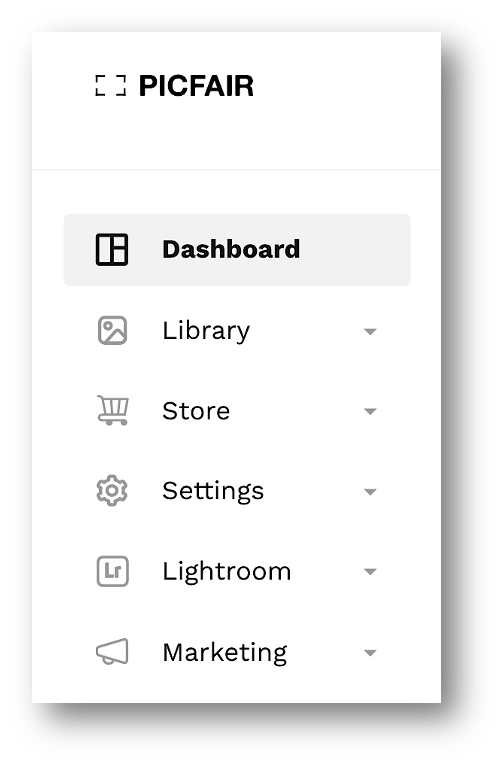 The top right-hand drop-down under your username is where you can access your Account, Orders, Password and Sign Out: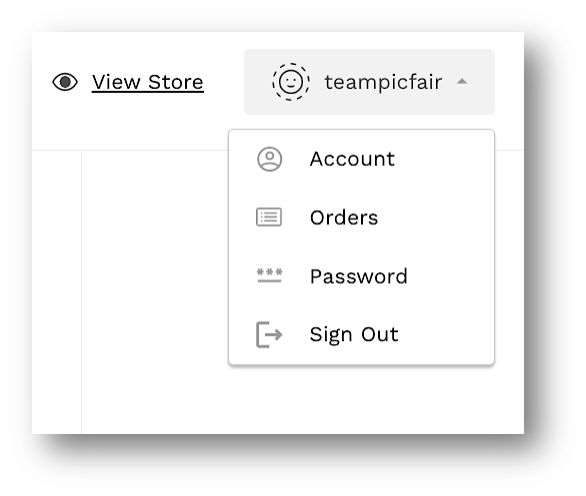 Below you can find an overview of the features and functions of each core area within the Dashboard.
This is where you can edit and manage your personal information, invoicing & pricing details and opt-in to Picfair's Advertising Licensing. You can also Update your email preferences and Delete Account
To make changes in this area, head here, edit as required and make sure to hit 'Save' at the bottom of the page.
Username
Your Picfair username correlates to your Store URL and will display as username.picfair.com for all new accounts.
All account types are welcome to change their username to edit their Store URL and Picfair Plus accounts have the option of connecting a custom domain to their Store.
Profile Picture
To upload a profile picture, just click on the 'Upload' button here. Keep in mind the maximum size for a profile picture is 3MB and the file needs to be a JPEG file.
If you do not have an image file of this size, you could try resizing your image using an online image resizing platform. There are plenty online, including https://www.fixpicture.org/
This is the core area for managing your Picfair images.
As well as replacing existing options for deleting images, changing licence types, and editing (tags, titles, price, descriptions), photographers will now be able to bulk edit images across a number of areas, filter images and ultimately have a more smooth way of editing images.
Easy to create and edit in a few simple steps, Picfair Plus users can organize their images into albums.
Albums are fantastic for showcasing images in a preferred order, as themed collections and for displaying a curated collection of images on your Store's homepage. Get started here.
This area is where you'll be able to make changes to your Store. Regardless of account type, you can manage the look and feel of your Store, with a variety of options to customize your Store.
This is where you can access your Billing History, update your Payment Method and review Print Settings. For Print settings, this is the area you can opt-in/out of selling your Images as prints and for Plus photographers, where you can set a custom print commission.
An exclusive addition to our offering, Picfair Plus users can access take advantage of two exclusive discounts on Adobe products here. There's also the option to download the Lightroom plug-in and access our unique Lightroom presets.
All account types have access to our marketing portal designed to help you make the most of Picfair. Here you can download our free guides on learning how to use social media to gain visibility on your Store, learn how Picfair uses search engine optimization for your Store and for our Plus users, set up Analytics via Google's GA4 interface.