Here's is our step-by-step written guide on uploading your images
To start uploading your images to your profile, head to our uploader: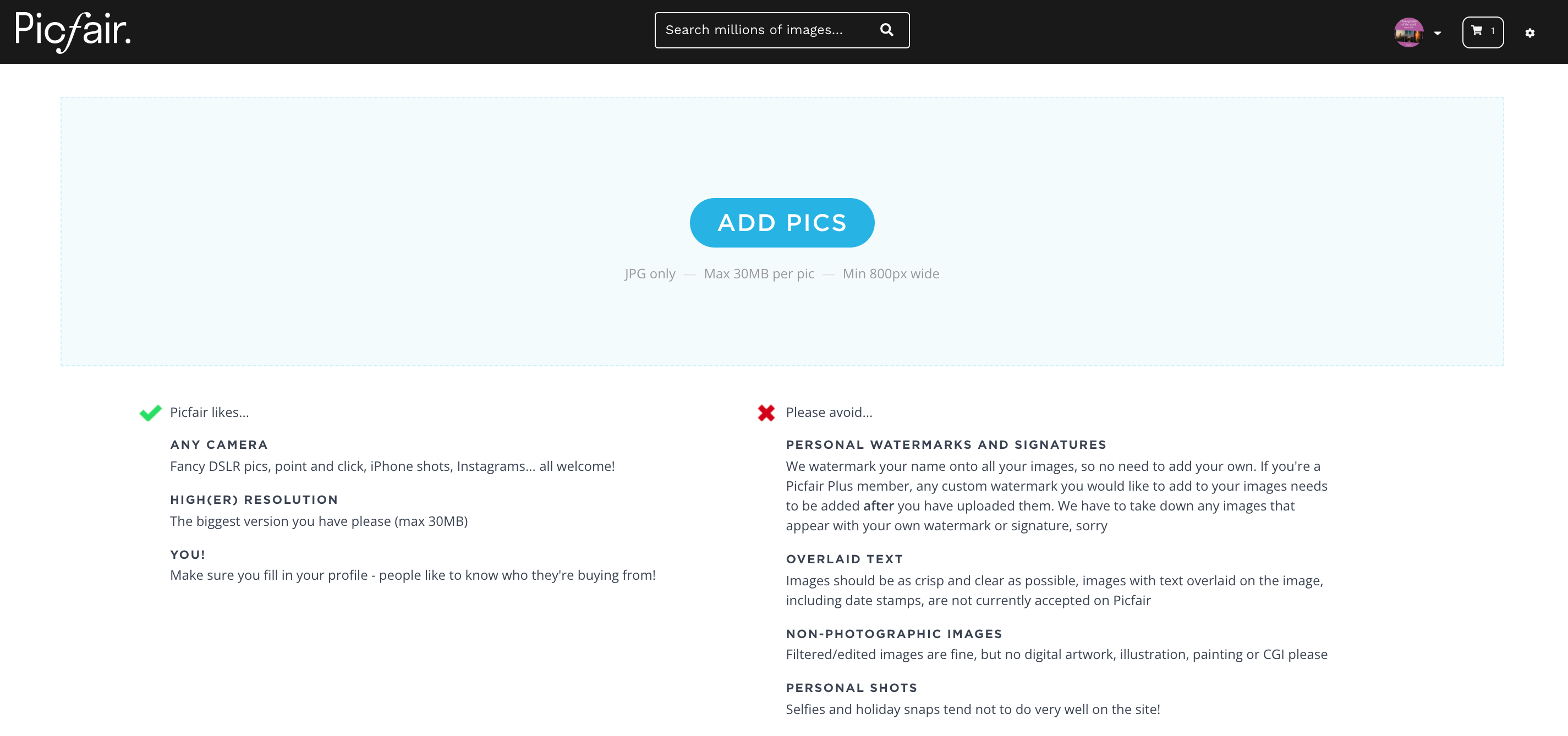 When uploading, you can select up to 20 images at a time to add to your upload queue: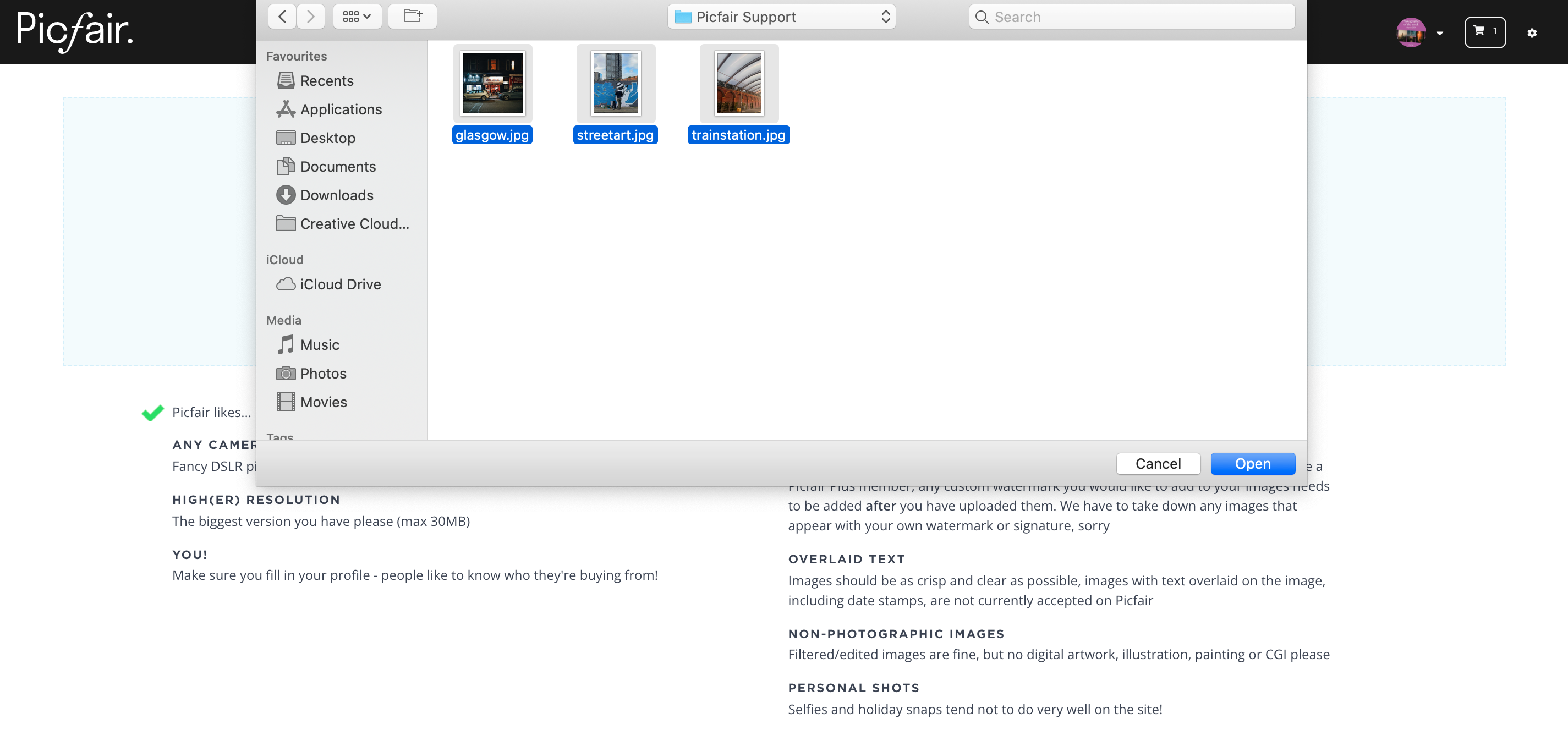 Once you have selected your images and clicked Open (or Choose), they will be added to the upload page.
Please be patient!
Large image files can take time to be added to the page. You'll see your upload progress as a percentage (%) at the top of the upload page
Once your images have been added, you'll be able to proceed to the next step of adding the required information to your images: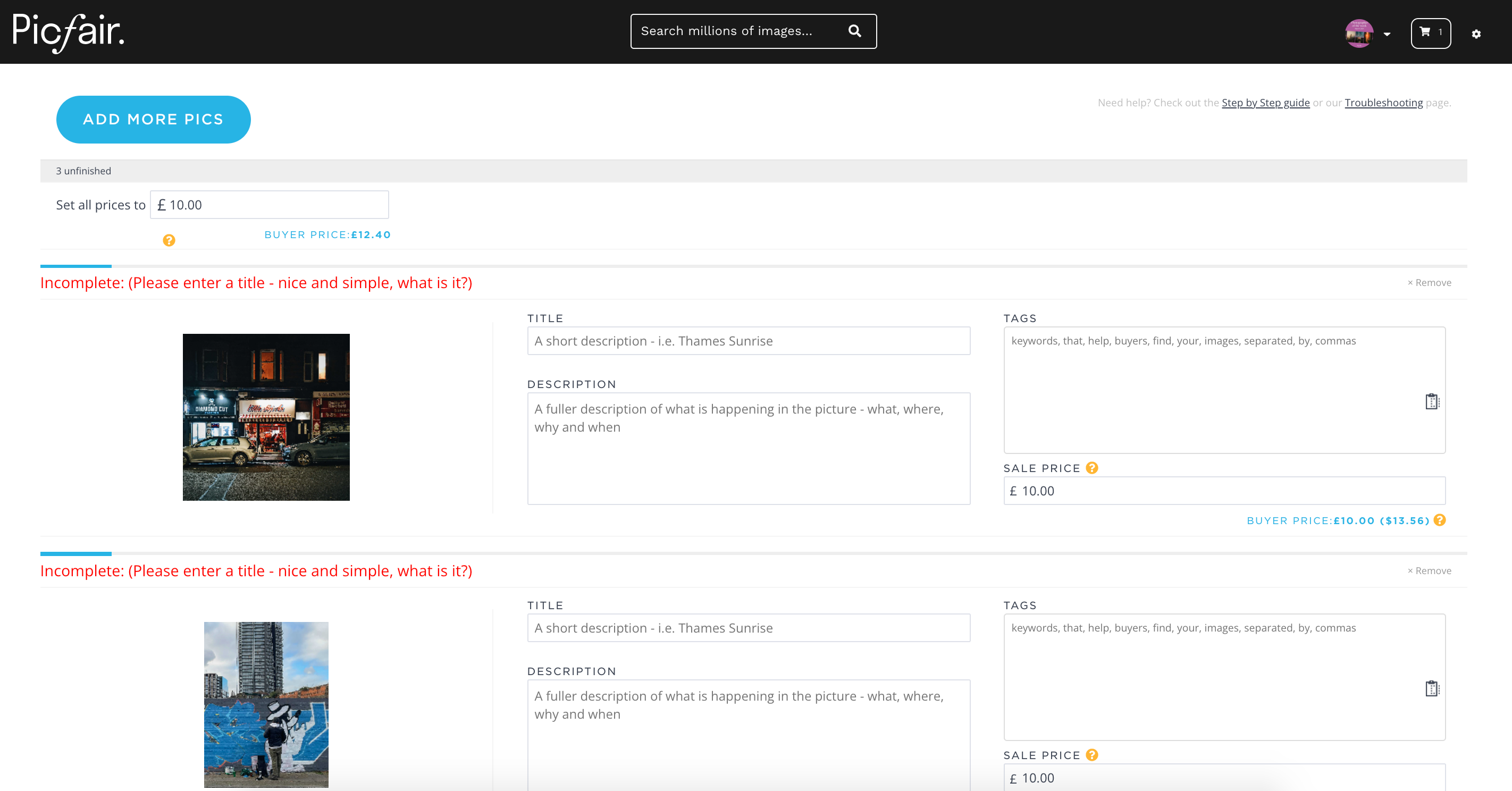 Before your images are uploaded to your profile, you need to add a

price

,

title

,

description

and

a minimum of 5 tags to your images

.

The upload page is the page where you can add all of this information. You can set a price for all the images you're uploading, or price them on an individual basis.

You can even see how the price will be shown to buyers, which includes Picfair fees, as you update your prices.

Each field will prompt you for the type of information that is required. When adding tags, each tag needs to be separated by a comma for it to be recognised by the system.

For example, tag1, tag2, tag3, tag4, tag5.

You'll see a tag has been recognised once it turns blue.

Images won't be uploaded until you've completed all the required info. There's a progress bar at the top of each image that will tell you whether the image is

Ready to upload

or what information still needs to be entered.
The images are ready for uploading when all the progress bars are green and each image is listed as Ready to upload: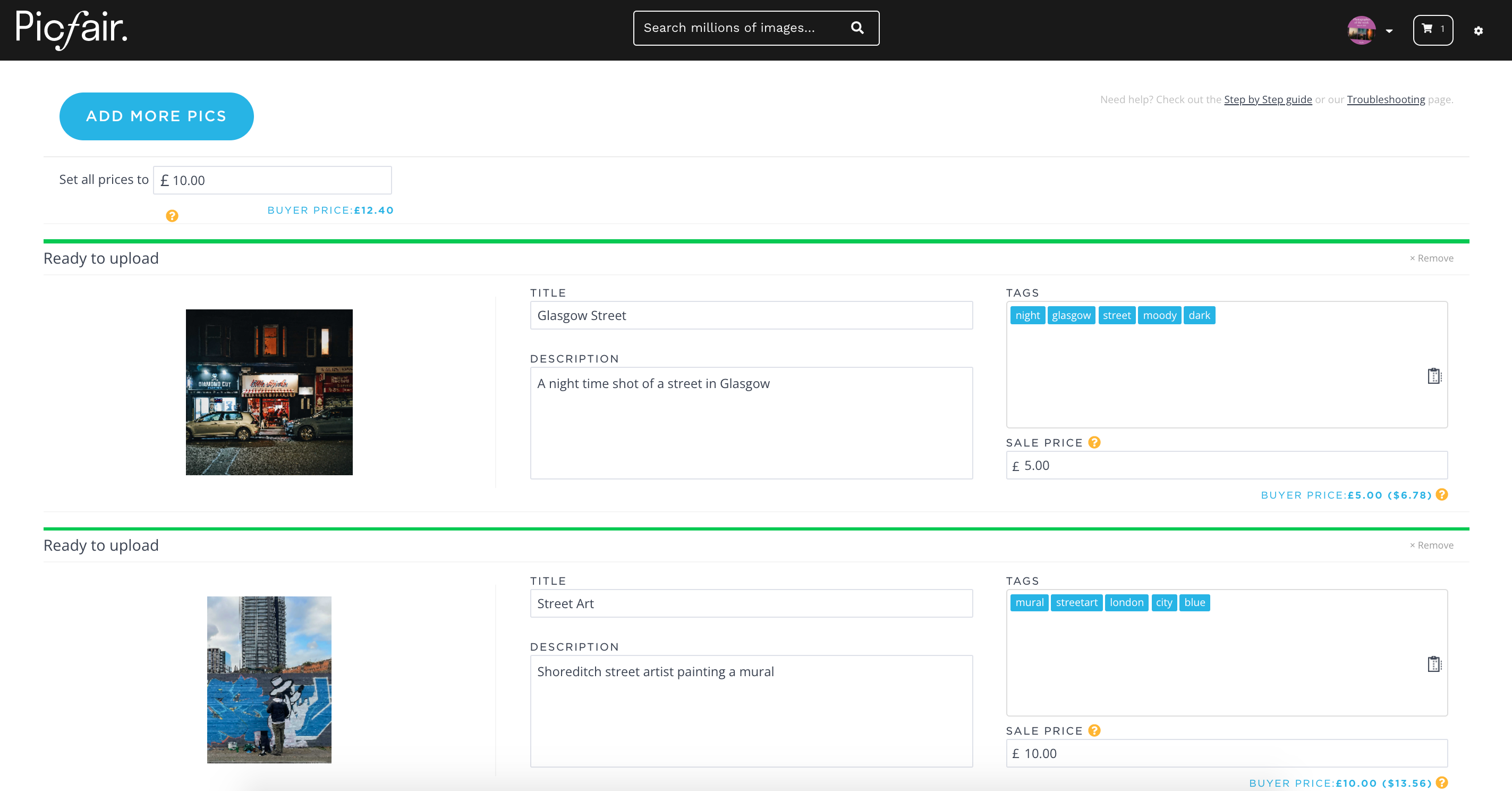 Once all your images are finished, the final step is to agree that you're authorised to upload the images in your queue you agree to the terms of the

Contributor Agreement

.

You'll find the button at the bottom of the page, and clicking it will complete the upload process and add the images to your profile.
After clicking Upload, you'll see the notification that your images are uploading. We don't compress your images or change them in any way - so images may take a little time to upload: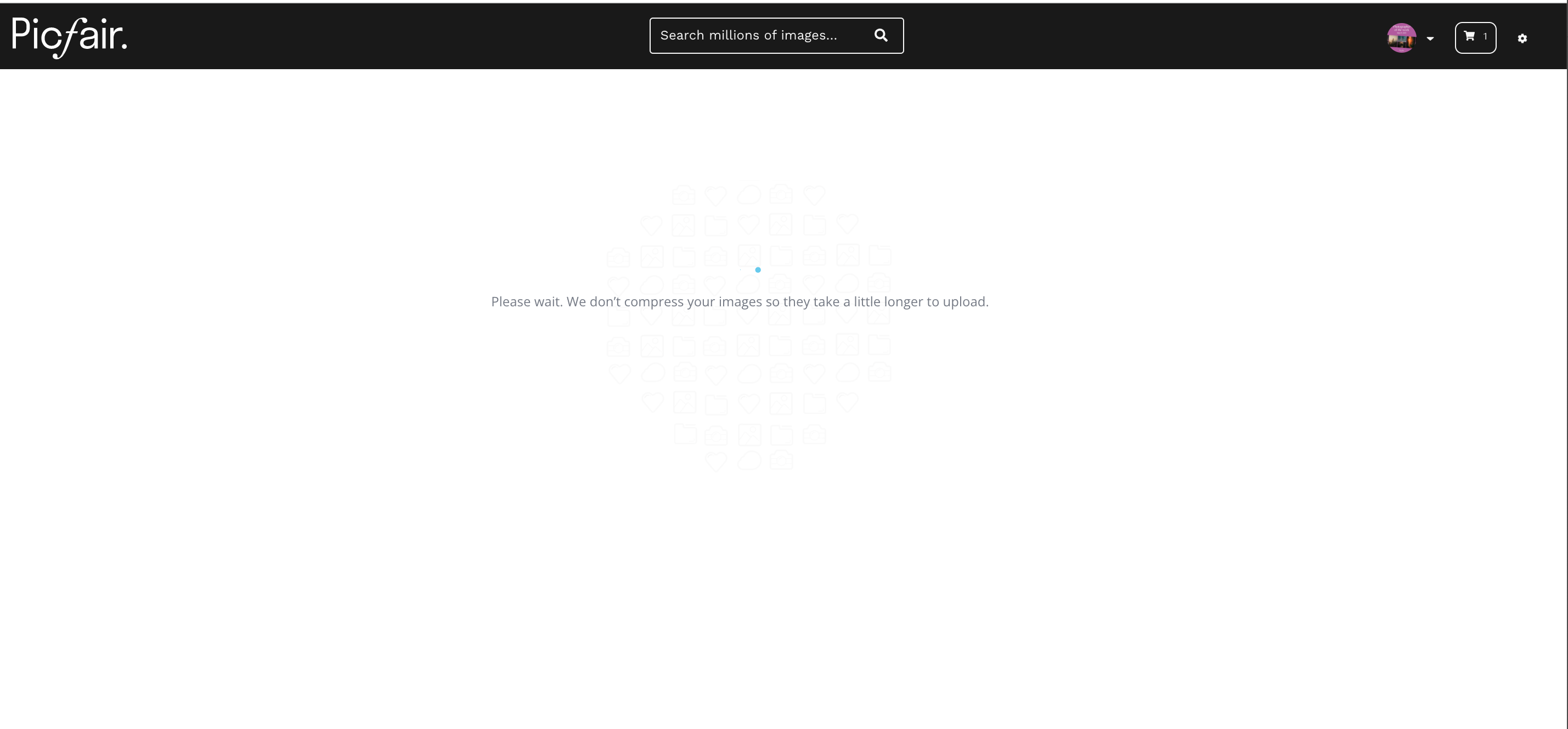 Once the upload is complete, you'll be redirected to your profile page, where you'll be able to see your recently uploaded images at the top of the page.
Whilst the images are visible on your page and your Store, and to anyone visiting the image URL, they won't appear in search results or be available to license until they've gone through our moderation process.
Useful links: